Welcome to the Händlerbund partner program!
As an affiliated partner, e-commerce entrepreneurs from all areas benefit from our strong network. Join us as a partner and offer your customers discounted framework conditions with the Händlerbund.
What we have to offer

The partner program represents over 90.000 managed online presences and a strong community. Take advantage of your opportunity for attractive commission models and benefit from our advantages. Participation is absolutely free of charge for you. Here you can find the terms and conditions for participation.
This is how it works

Register via the following form.
Choose the suitable advertising banner or text link from the numerous animated and static promotional materials.
Insert the promotional material into your website using the provided codes or share your personalized tracking link.
If a customer becomes a member through your recommended link, the corresponding bonus will be credited to you and paid out shortly afterwards to the specified bank account.
Are you already a Händlerbund partner? Then you can log in to the partner portal.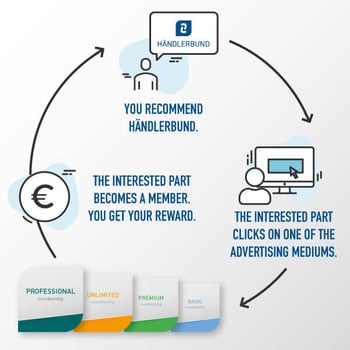 You want to register a member that you have already referred?
Please fill in the corresponding information in the following form and we will get back to you soon.
Would you like to know more about the partner program?
We will show you how the Händlerbund partner program can transform your business. By partnering with us, you will not only gain access to exclusive offers and benefits, but also receive dedicated support and assistance in achieving your goals. Contact us to learn more about our partner program and the various opportunities for collaboration. We look forward to hearing from you!
Your contact: Constantin von Tilly

Email: affiliate@haendlerbund.de