Our comprehensive service – Employment law for employers
Do you employ one or more employees? With our
Labor Law packages Light and Pro
, we take additional work off your hands. You can discuss questions and uncertainties about labor law directly with our lawyers.
We support you in avoiding disputes beforehand. If there are still disputes, we help you reach an out-of-court settlement. And all of this at predictable prices
starting at 49,90 Euro* per month
.
From application to termination - always safe through labor law
Consultation by our experienced lawyers by phone and email
Current templates, checklists, and instructions
Transparent and predictable costs
Out-of-court representation in the Labor Law Pro package
This is how we support employers in labor law
As an employer with employees, you face your own challenges. Whether you are a small business owner, medium-sized or large enterprise, labor law is often as individual as the company itself. We assist you in all phases from application to termination - also in cooperation with freelancers. These include, for example:
Legal certainty for all areas of responsibility
The larger the number of employees, the more likely that the topic of labor law affects various positions and departments. We assist in the legally secure implementation of everyday tasks. Whether it's cooperation with external companies, equal treatment, application processes, or terminations - we guide you through all processes.
Support for all areas of the company:
Managing directors and executives
Executive assistants
HR managers, officers, and specialists
Works council and employee council members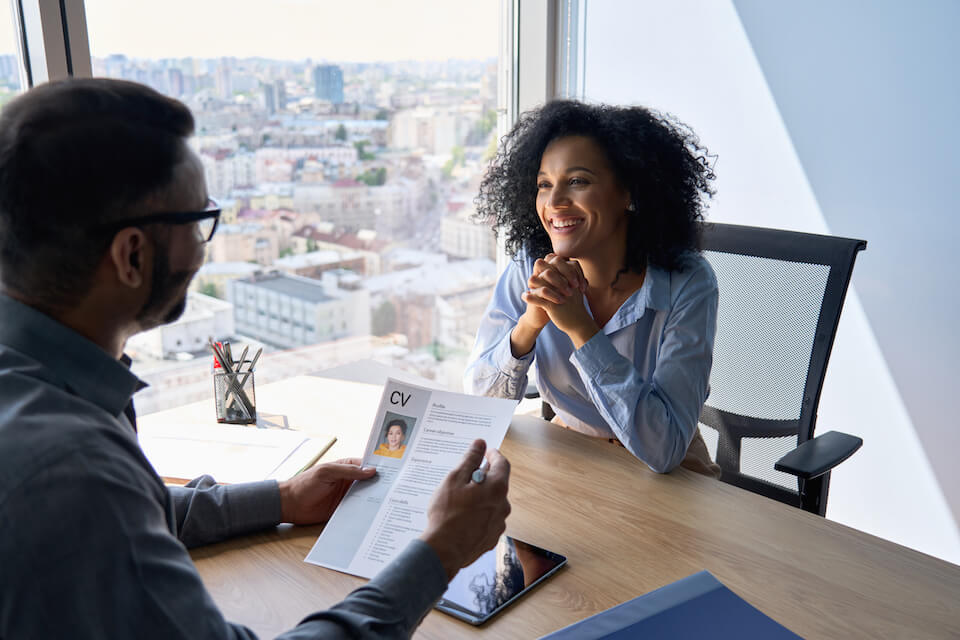 Details on our labor law packages
With our labor law packages Light and Pro, we enable you to legally secure your company with minimal effort. Configurable sample letters, templates, and checklists help you create and send legally secure documents in just a few minutes. Additionally, you can always take advantage of our legal consultation services.
Do you have any questions about our labor law packages? Use our
Callback Service
.
Labor Law Package Light
Fixed prices starting from 49,90 Euro* Euro/month.
Wide selection of templates, checklists, and guides.
Documents always up to date with current legal standards.
Expert advice on labor law documents.
Individual consultation on labor law questions.
Initial consultation with a lawyer regarding your individual questions.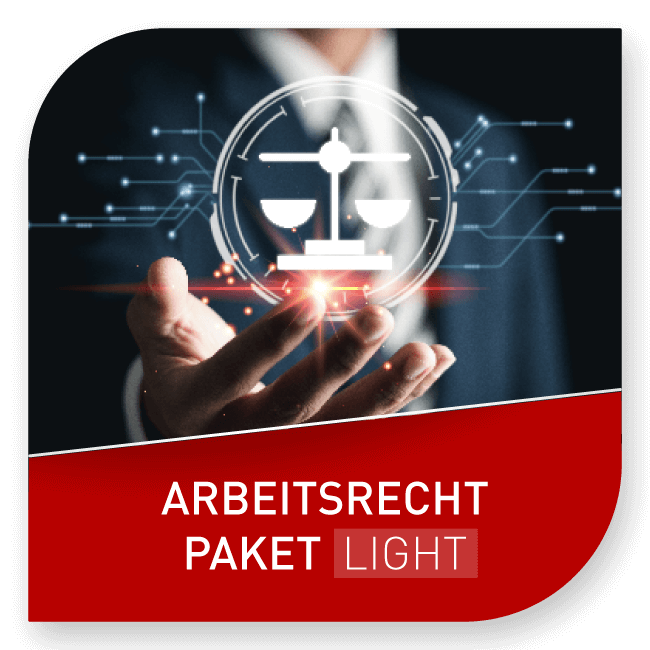 Labour Law Package Pro
Fixed prices starting from
59,90 Euro* /month
.
All benefits from Labor Law package Light
Out-of-court representation in labor law disputes.
Written and telephone communication with the opposing party/lawyer.
Out-of-court settlement and termination negotiations.
Representation in dealings with the works council.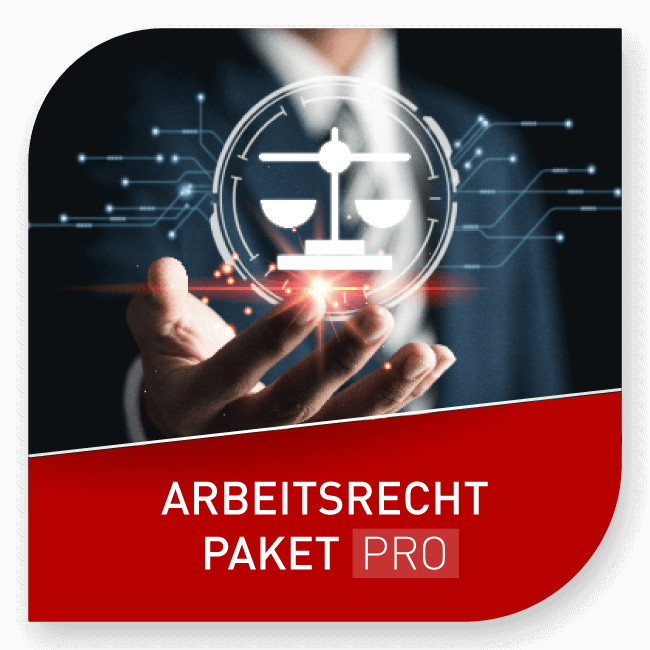 Our Labor Law Packages – This is what happens next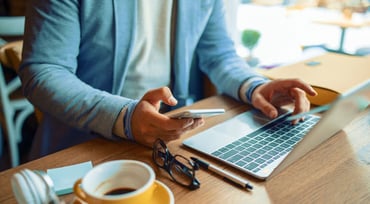 Legal document templates, guides and checklists
With the Labor Law Packages Light and Pro, you will immediately gain access to more than 20 configurable sample letters, guides, and checklists. This enables you to create up-to-date and legally secure documents at any time. Of course, we assume liability for this.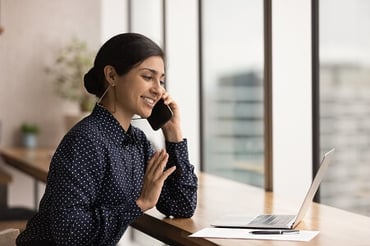 Legal consultation
Our specialized lawyers advise you on all labor law topics, such as employment contract and termination, part-time work, vacation, or parental leave.

Furthermore, we support you with questions that make your everyday life as an employer difficult. An employee reports sick every other week? Tasks are not or only inadequately fulfilled? Or do you have questions about employing staff from EU and non-EU countries? Our lawyers will also competently help you in these cases.

In the Labor Law Packages Light and Pro, you will receive individual labor law advice included. In addition, we are always available to help you with questions about sample letters, guides, and checklists.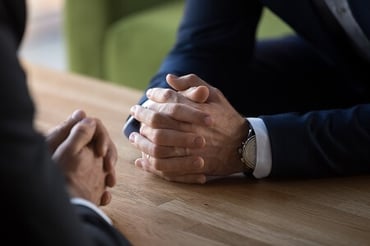 Communication with employees and third parties
In the Labor Law Package Pro, we also take over the out-of-court communication and complete correspondence with third parties and employees. In addition, individual legal support includes services such as creating individual contractual provisions (for example, regarding employment contracts, terminations), conducting out-of-court settlement negotiations, and representation in dealings with the works council.
FAQ
What is labor law?
Labor law regulates the relationship between the employer and the employee. It regulates dependent, employed work and is therefore not relevant, for example, for self-employed persons.
In Germany, a variety of laws are affected. In addition to the Basic Law, which anchors the freedom of occupation as a fundamental right, there are also regulations in the Civil Code (BGB), Working Hours Act, Minimum Wage Act, Federal Vacation Act, and more.
What does individual labor law mean?
In contrast to collective labor law, individual labor law regulates the relationship between the employer and the employee. Collective labor law deals with the relationship between trade unions and works councils, for example.
What are the dispute values that can arise?
The dispute values differ depending on the occasion:
For terminations that are negotiated in court, the dispute value is three times the respective monthly gross salary of the employee.
For warnings from employees that are negotiated in court, it is one monthly gross salary.
For references that are legally disputed, the dispute value is one monthly gross salary.
Why do I, as an employer, need to draw up an employment contract?
You need an employment contract if you establish an employment relationship with an employee. This requirement arises from the so-called Proof of Employment Act. If there is a dispute with your employee about the content of an oral agreement, you - not the employee - must fully prove your assertions, i.e., the specific agreement on, for example, a certain number of vacation days, remuneration, etc. If you cannot prove that, you will remain in default of proof, and the employee can win the case in court and thus enforce their claims against you.
What must employers consider in termination letters?
Form
: Although an employment contract can be concluded verbally, termination generally requires written form. It must, therefore, be in writing.
Notice
: The employer must ensure that the termination reaches the employee in due time. The notice period only begins to run upon receipt. If the letter is sent by mail, the shipping time must be taken into account.
Timing
: The letter should also contain the time when the employment relationship will end. Sometimes, calculating notice periods is not quite simple. Therefore, it is recommended to add a sentence in addition to the exact time that you are alternatively terminating as soon as possible.
Reason
: If an employment relationship is terminated regularly, this decision does not have to be justified.
When is a termination agreement worthwhile?
A termination agreement with an employee is worthwhile if you want to separate from them quickly and easily. You can avoid the risk of a judicial procedure over the effective termination of the employment relationship and thus have lower costs.
Can't I just write the employment reference myself?

There is a complicated "reference language." If you use it incorrectly, you can get into legal problems, as can be the case if you do not apply it. If the employee is not satisfied with the reference, they can file a lawsuit for correction of the reference, which leads to additional effort, time, and costs.
When can employees found a works council?
A works council can be established if at least five permanent employees work in a company.
* All prices are net plus mandatory sales tax payable as an annual fee.